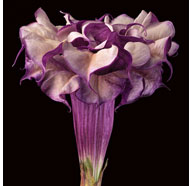 Mark your calendars now for these upcoming exhibits at National Museum of Women in the Arts:
Spotlight Installation: Return to Nature
August 1–30, 2020
Despite the fact that women were integral participants in the development of nature photography, scholars largely ignored their contributions until the 1970s. With work by Imogen Cunningham, Louise Dahl-Wolfe, Rineke Dijkstra, Justine Kurland, Amy Lamb, Ruth Orkin and others, this exhibition of modern and contemporary photographs reflects the extraordinary contributions of women artists. Some treat plant specimens from the perspective of an artist-scientist, while others apply a modernist sensibility, concentrating on line, contour and value contrast. Lush landscapes alternately serve as personal remembrances of distinctive spaces or stages on which models enact intriguing narratives.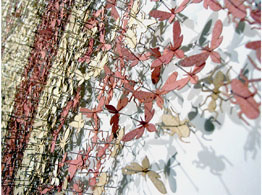 Paper Routes—Women to Watch 2020
October 8, 2020–January 18, 2021
Paper Routes, the sixth installment of NMWA's Women to Watch exhibition series, showcases the transformation of this ubiquitous material into complex works of art. Artists use paper not merely as a support for drawings, prints or photographs, but as a medium itself. Ranging in size from minutely detailed, small-scale works to large, sculptural installations, this exhibition explores artists' ability to transform paper into a surprising array of shapes and structures. Begun in 2008, Women to Watch is a dynamic collaboration between the museum and its national and international outreach committees.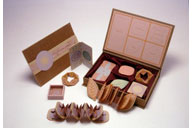 Julie Chen: True to Life
October 12, 2020–February 12, 2021
Renowned book artist Julie Chen combines highly complex structures and poetic reflections to create ambitious artists' books that raise questions about time, memory and human survival. Chen carefully engineers books in ways that create unmistakable, powerful unity of text and object. Julie Chen: True to Life will present a selection of the California-based artist's captivating works from throughout her 33-year career.
RECLAMATION: Recipes, Remedies, and Rituals
October 24, 2020–January 3, 2021
RECLAMATION is an evolving exhibition and ingredient archive that examines food as a creative medium for visual art and a connective tool for exploring intergenerational and intercultural experiences. Focusing on ingredients used in cooking, curatives and ceremonies, the interactive installation resembles an apothecary cabinet. Its innovative design also centers around a kitchen table, the central domestic object for gatherings of family and friends. The exhibition accompanies a season of programming that highlights food as a universal component of culture as well as a connector for identity, race, memory, gender and well-being.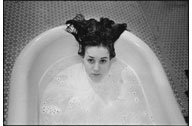 Mary Ellen Mark: Girlhood
January 16–April 18, 2021
An icon in modern photography, Mary Ellen Mark (1940–2015) documented people around the world who would otherwise be unknown or forgotten. From street children in Seattle to circus performers in India, Mark captured the lives and stories of individuals with empathy, humor and candor. Drawn from an exceptional recent donation of more than 160 photographs by the artist, given to the museum by members of the Photography Buyers Syndicate, this exhibition presents approximately 30 images Mark made throughout her career depicting girls and young women. Photographs from many of the artist's best-known series reflect her wondrous and uncanny vision of girlhood.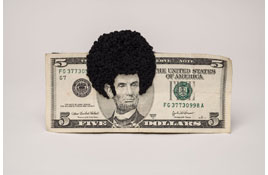 Sonya Clark: Tatter, Bristle, and Mend
March 3–May 31, 2021
Textile and social practice artist Sonya Clark (b. 1967) is renowned for her mixed-media works that address race and class, celebrate Blackness and re-imagine history. This mid-career survey includes the artist's well-known sculptures made from black pocket combs, human hair and thread as well as works made from flags, currency, beads, sugar, cotton plants, pencils, books, a typewriter and a hair salon chair. The artist transmutes each of these objects through her application of a vast range of fiber-art techniques: Clark weaves, stitches, folds, braids, dyes, pulls, twists, presses, snips or ties within each work. By stitching black thread cornrows and Bantu knots onto fabrics, rolling human hair into necklaces and stringing a violin bow with a dreadlock, Clark manifests ancestral bonds and reasserts the Black presence in histories from which it has been pointedly omitted.
CURRENT EXHIBITIONS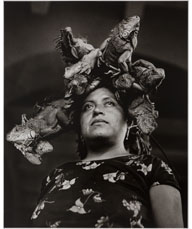 Graciela Iturbide's Mexico
Extended through August 23, 2020
Lyrical and provocative black-and-white images by celebrated photographer Graciela Iturbide (b. 1942) capture the rich tapestry of cultures, daily rituals, social inequalities and coexistence of tradition and modernity across Mexican society. In this major presentation of work from throughout the artist's five-decade-long career, Graciela Iturbide's Mexico tells a visual story of the country since the late 1960s. Approximately 140 photographs reveal the lifestyle of the Seri people living in the Sonoran Desert, the exploitation of workers among the Mixtec of Oaxaca and the vital role of women in Zapotec communities. Iturbide's empathetic approach to photography reflects her deep connection to her subjects and offers powerful insight into the beauty and complexities of Mexico's cultural heritage.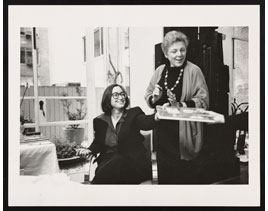 Linda Nochlin: The Maverick She
Extended through October 8, 2020
Open by appointment only; email lrc@nmwa.org to schedule
Linda Nochlin (1931–2017), award-winning scholar, art historian and critic, devoted her career to forging a new appreciation for the contributions of women in the arts. Her 1971 essay "Why Have There Been No Great Women Artists?" shifted the critical discourse to a place from which feminist artists, thinkers and activists have never looked back. NMWA's Betty Boyd Dettre Library and Research Center and the Smithsonian's Archives of American Art are collaborating to showcase a selection of Nochlin's papers and ephemera (acquired by the Archives of American Art in 2018) that illuminate her remarkable contributions to art and culture.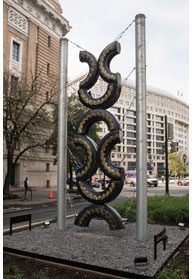 New York Avenue Sculpture Project: Betsabeé Romero
Through September 20, 2020
The dynamic works of Mexico City-based artist Betsabeé Romero (b. 1963) form the newest chapter in NMWA's public art program, the New York Avenue Sculpture Project, established in 2010. Signals of a Long Road Together comprises four sculptures developed expressly for this installation. Using a process similar to tattooing, Romero carves figures and intricate patterns into the sidewalls and treads of tires, which are then filled with gleaming metallic paint. The tires are assembled into totemic structures that speak to themes of human migration and the natural environment. Romero's sculptures are the first in the New York Avenue Sculpture Project to incorporate interior lighting, which gives each piece an otherworldly glow after dark.
VISITOR INFORMATION
HOURS: Starting August 1, 10 a.m.–5 p.m. Monday through Saturday and noon–5 p.m. Sunday. Closed Thanksgiving Day, Christmas Day and New Year's Day
LOCATION: 1250 New York Avenue, NW, Washington, DC 20005, two blocks north of Metro Center
ADMISSION: $10 for adults, $8 for visitors 65 and over and students, and free for NMWA members and youth 18 and under. Free Community Days take place on the first and third Sunday of each month, beginning August 16. Advance purchase of timed tickets is highly recommended. 
INFORMATION: Learn more about the upcoming exhibits at the National Museum of Women in the Arts at nmwa.org, or call 202-783-5000.